Friuli Venezia Giulia cuisine
Friulian cuisine is an Italian regional cuisine that is strongly affected by the morphology of the region that goes from the sea to the mountains, the diversity of the cultures and populations that inhabited it, contributing substantially to a differentiation of culinary traditions: from the point of view Economic, the main food districts in the second decade of 2000 are those of the wine sector and that of the San Daniele ham.
Prosciutto di San Daniele (DOP) is a seasoned raw ham recognized as a denomination of origin since 1970 by the Italian state with law no. 507 and from 1996 from the European Union as a product to protected denomination (DOP) because its characteristics are due to the particular geographical environment, which includes natural and human factors.
It is produced by 31 companies in the municipality of San Daniele del Friuli, in the province of Udine according to methods defined by the relative production disciplinary which has the value of the law. The Consortium brand is imprinted on certified ham, which includes the manufacturer's identification code.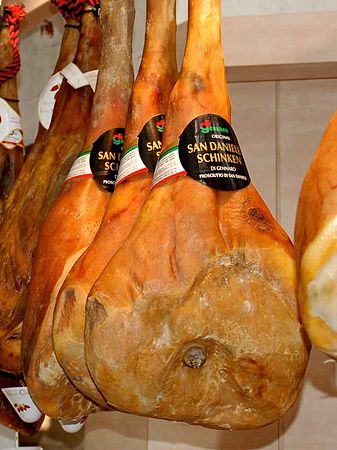 Prosciutto di Sauris is a pork-based cured meat with Protected Geographical Indication produced by 2 companies in the municipality of Sauris, in the province of Udine according to a well-defined production tradition. It stands out among all protected Italian hams for the light smoking obtained by natural combustion exclusively of beech wood.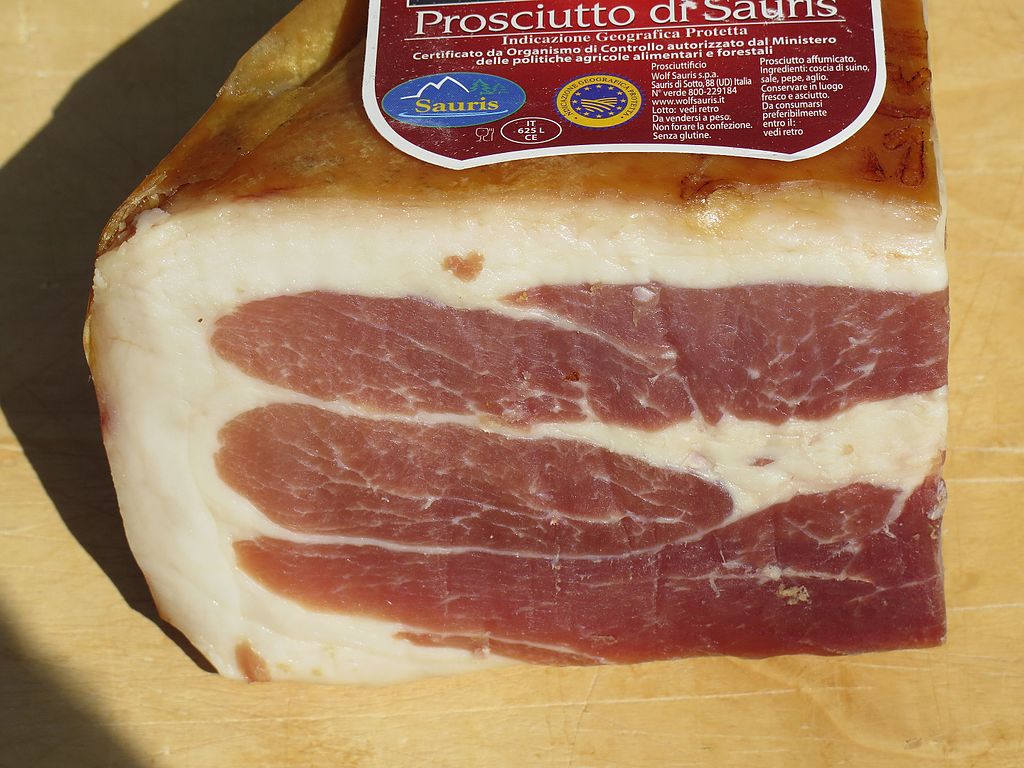 Montasio is an Italian cheese with protected denomination of origin, typical of the north-east of Italy (Friuli-Venezia Giulia and Veneto), subject to rigid production and seasoning procedures, established and supervised by the respective consortium, based in Codroipo ( UD).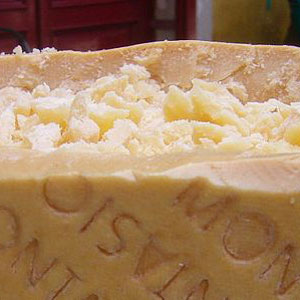 Salame friulano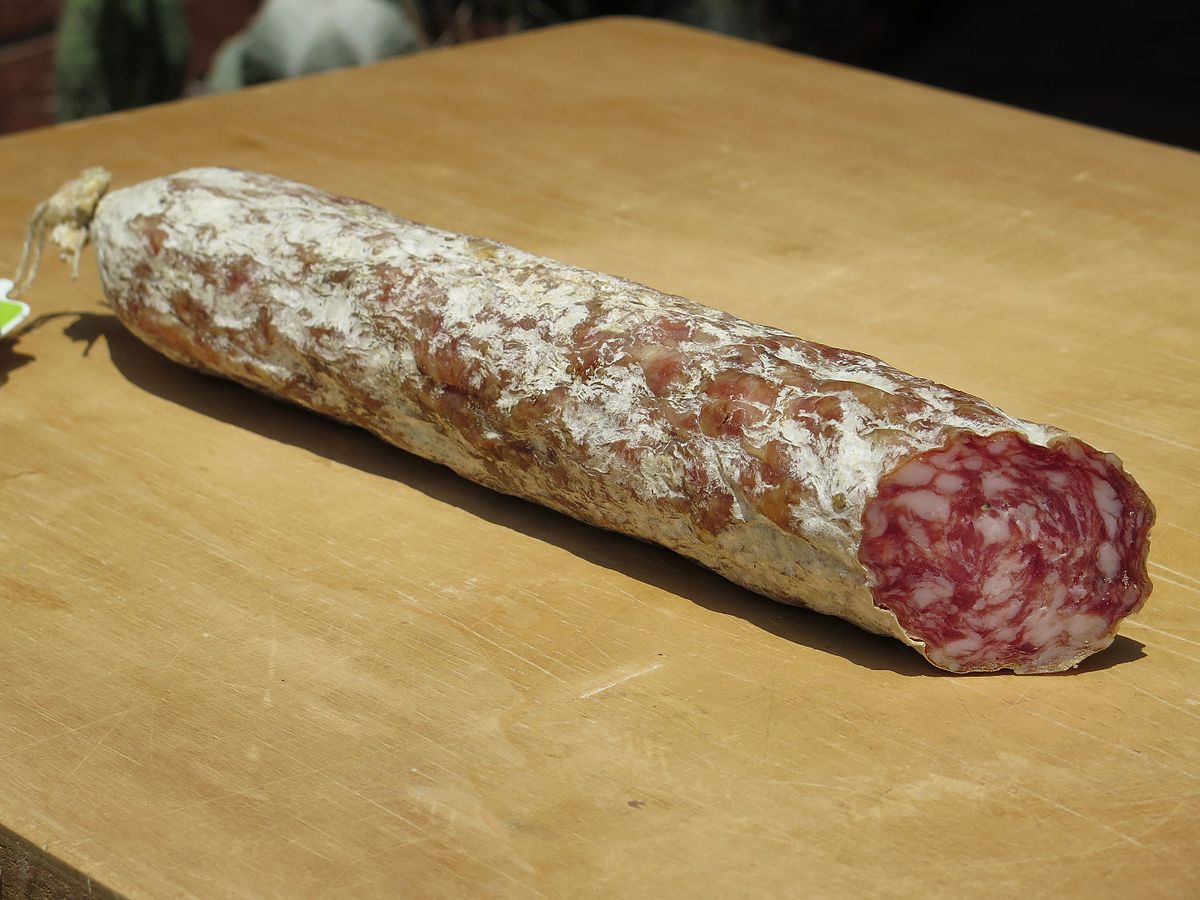 La Pitina is made traditionally with minced meats of Beef and Lamb mixed with spices and red wine. It is then rolled into organic corn flour and let cure naturally for several weeks.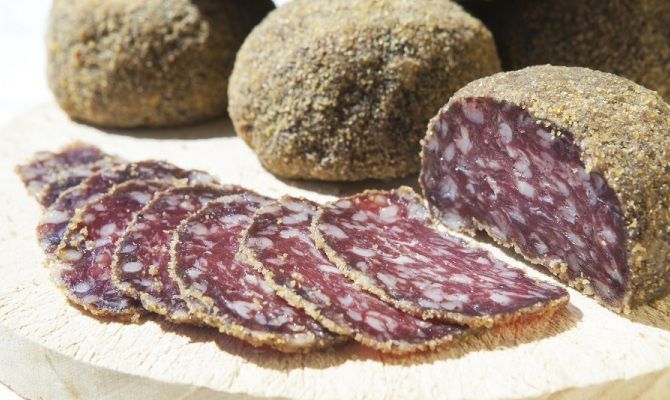 Salame con l'aceto
Salami with vinegar is one of those typical recipes of Friuli to be prepared during the winter or autumn season, when it starts to get cold. It is a hearty single dish, but also quick and easy to cook and, as a rule, it is accompanied with polenta.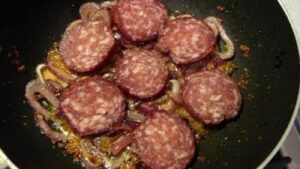 Brovada e muset is a traditional peasant dish originating from Friuli-Venezia-Giulia. It consists of brovada, fermented white turnips that have been sliced and macerated in red grape marc, and muset or musetto, a large and thick pork sausage that's similar to cotechino.
Traditionally, the dish is prepared and served for Christmas and it was invented from the need to preserve turnips over the winter. The sausages and turnips are cooked separately, then served together while still hot. The fermented turnip known as brovada is often used to accompany meats, but it can also be used in various vegetable-based dishes and soups.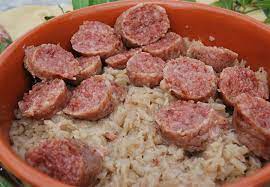 Jota is a typical dish of the kitchen of all Friuli-Venezia Giulia, the Slovenian coast and Istria.
It is a soup originally from Friulian cuisine, but which in the most famous Triestine version is based on sauerkraut (in Trieste Dialetto Capuzi Garbi, acidic caps), beans and potatoes; It is flavored with ribs, ribs or other pork, smoked and not, and Kümmel seeds, similar to cumin.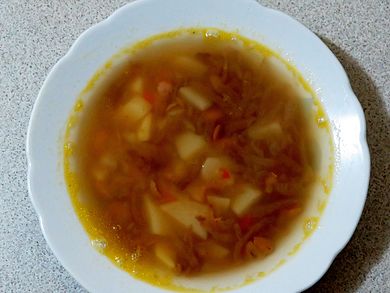 Polenta is an ancient food of Italian origin based on corn flour or other cereal.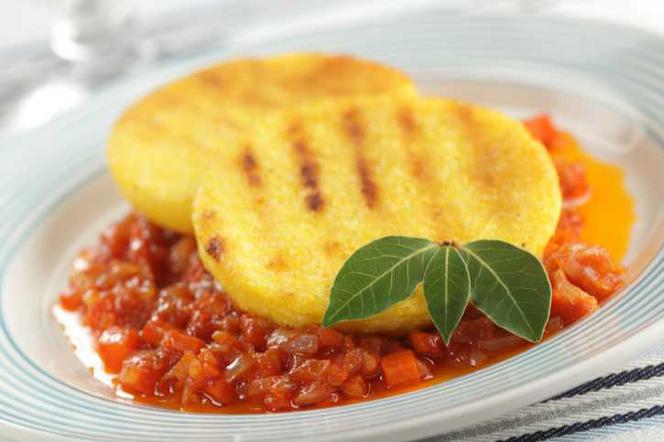 The Frico (whose original name in Friulian language is Fricò) is a cheese -based dish of various seasonings, potatoes and onion, considering the most typical culinary preparation of Friuli, more precisely than Carnia, and Friulian cuisine. It is recognized among traditional Friulian and Giuliani agri-food products. It is also widespread in nearby Slovenia and Carinthia, where it takes the name of Frika.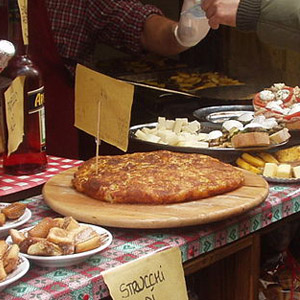 With a recipe dating back to the late 1800s (the economically worst period in Carnia), 'Stropefàn' ('stops hunger') is a first course recently recovered from the municipality of Lauco (13 km west of Tolmezzo), which holds the rights use by local restaurateurs.
The original recipe (which to us is composed of pasta such as corn and buckwheat gnocchi, horse shredded ricotta, wild thistles, broccoli, ont, red wine sauce, grappa) has been adapted to modern dietary needs, reducing fat and calories. The dish, similar to crepe, has a very scenographic aspect and offers an undoubtedly interesting taste.
Cjarsons, also called cjalzons or cjalsonos, are an ancient traditional filled pasta from Friuli, particularly the Alpine region of Carnia. However, they are made in many parts of Friuli, both in the mountains and on the plains.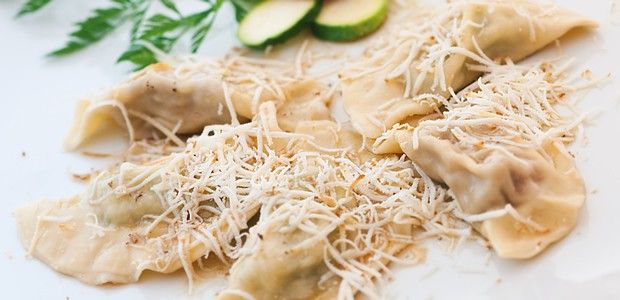 Orzotto is an Italian dish similar to risotto, but made with pearl barley instead of rice. Orzotti are a speciality of the Friuli Venezia Giulia region of northeastern Italy.
The name is a portmanteau of orzo (the Italian word for barley) and risotto. This should not be confused with orzo, otherwise known as risoni, a type of wheat pasta formed into shapes resembling barley grains.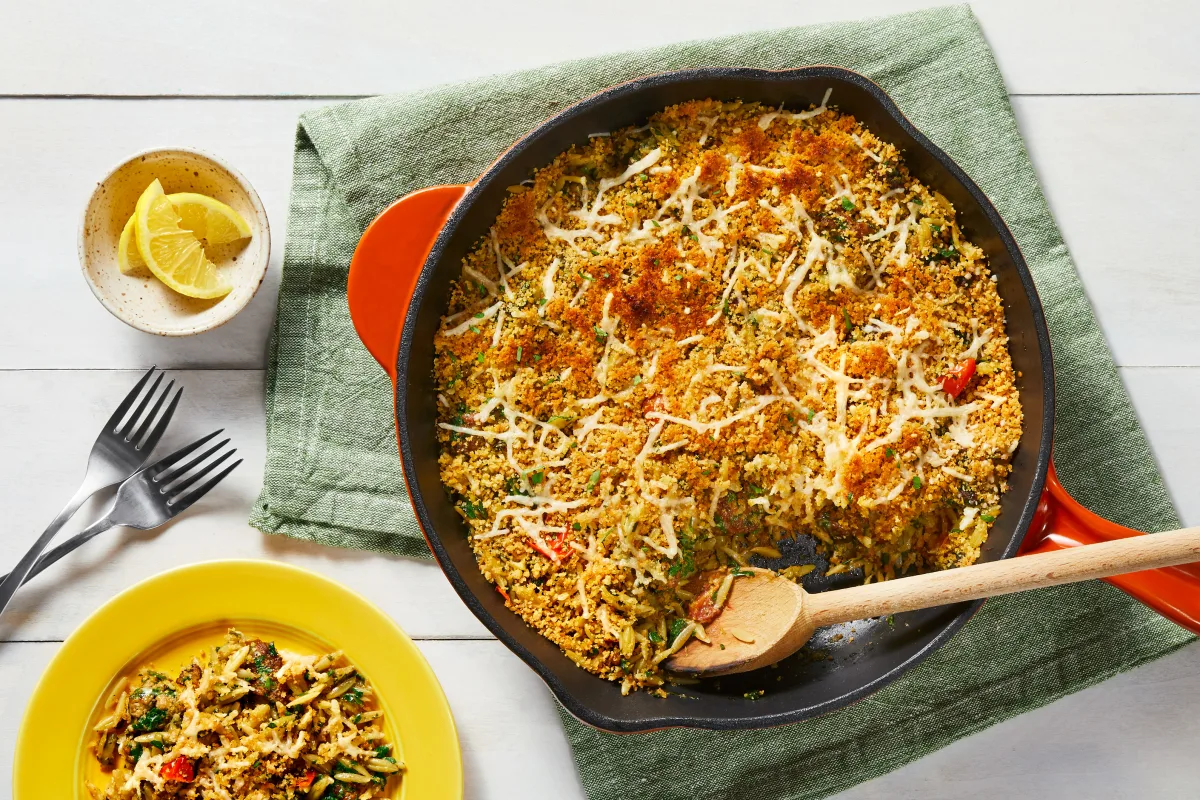 In the Natisone valleys, the sweet symbol of Friuli Venezia Giulia was born with a typical spiral shape: Gubana. The lards, on the other hand, are very tasty biscuits prepared with the same ingredients used for the Gubana filling.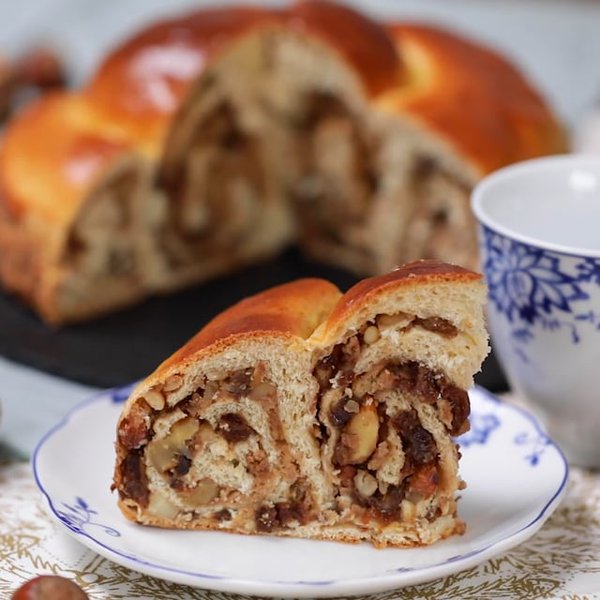 The Strucchi (name and handwriting are variable according to the Friulian and Giulian areas, can be called strucchi, struchi, struki, strucoli o strucoleti) are typical sweets of Friuli-Venezia Giulia, with a form of bundles made with the same filling as Gubana and originating in the area of the Natisone valleys, and considered, together with Gubana herself, a typical dessert of these areas.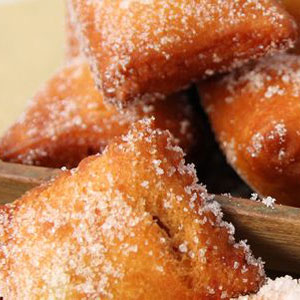 There are many rustic trattorias and curated restaurants, as well as food and wine reviews, where you can taste authentic delights.
Local cuisine, where clear Slavic influences are breathed, has always exploited the products of the earth with wisdom, such as spontaneous herbs, mushrooms, truffles, chestnuts and apples, with which strudel are prepared.
Gulasch is a German adaptation of the Hungarian Gulyás, an adjective derived from Gulya "Mandria di Bovini", which in Hungarian gastronomy indicates a preparation used above all for beef, but also adaptable for chicken meat, sheep meat and even fish, which yes It is then widespread throughout central-eastern and central Europe (hence the Gulasch handwriting used in German-speaking countries; Serbocroato and Slovenian Gulaš; Romanian Gulaş; Polish Gulasz; Czech and Slovak Guláš).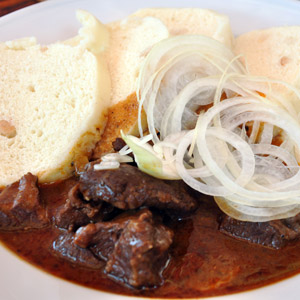 I ćevapčići (ћевапчићи) or ćevapi (ћевапи) are a Balkan food based on minced meat, variously spicy, typical of the cuisine of the countries of the Balkan peninsula. They are also widely widespread in part of the Italian North-East (certainly in Friuli-Venezia Giulia, in the eastern Veneto in part of the provinces of Belluno and Treviso), in Austria and in the other territories bordering the ex-Juugoslavia. They are also widely widespread in Romania with the name MICI.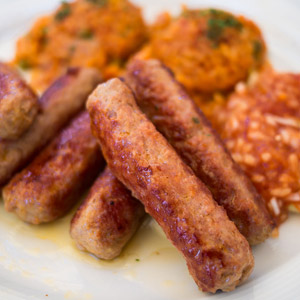 Cuisine of Łódź region
Zalewajka is a traditional country soup with sliced potatoes inside, made on a sour soup with sourdough.
It was called a soup for poor people, the colour resembling white borscht. In the nineteenth century, it was the main dish eaten at any time of the day, apart from sour rye soup and borscht, starting with breakfast. The base consisted of potatoes, onions and leaven, sometimes dried mushrooms.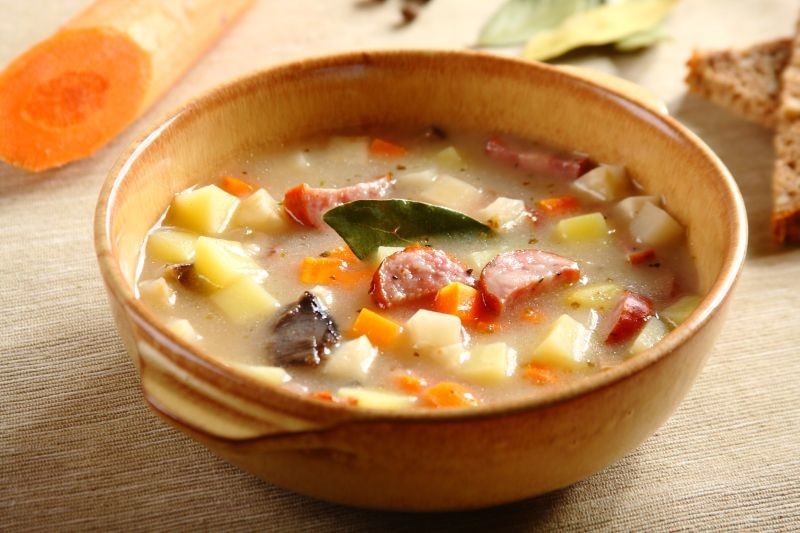 Kapłonek soup (wodzianka), a simple soup cooked on stale bread, garlic and fat. Of course, Wodzianka must be properly seasoned.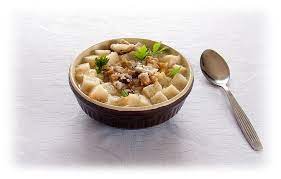 Horseradish soup in which the main ingredient is whey and grated horseradish root.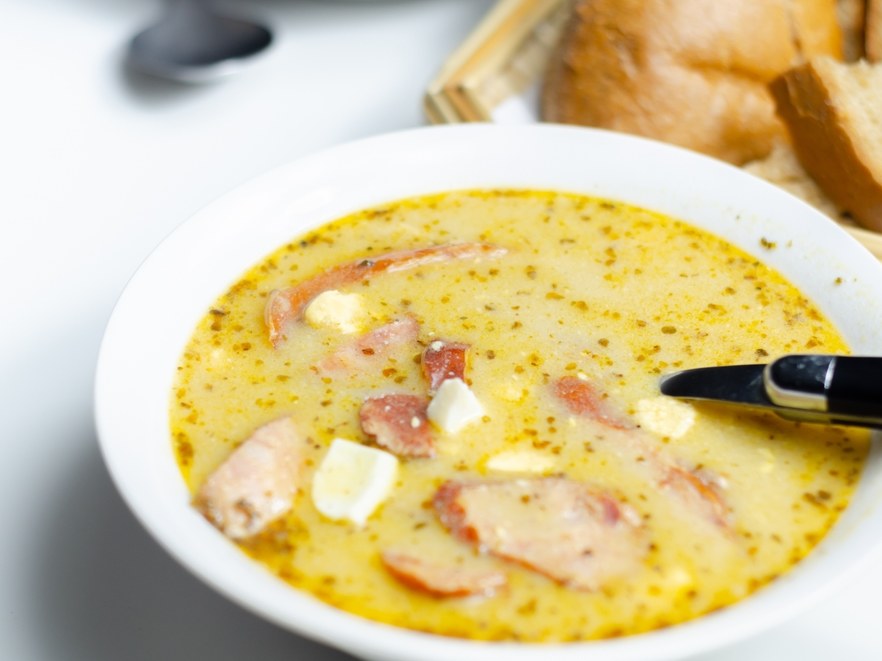 The first courses are also Solanka soup, potato soup and white borscht on black pudding.
Fruit soups, such as "grusconka" soup or famuła, made of wild fruit, or ulęgałek, were very famous. Fruit soups were sprinkled with bacon, seasoned with cream or flour and served with boiled potatoes.
The tables in the region of Lodz are often filled with the famous:
"prażoki with cracklings"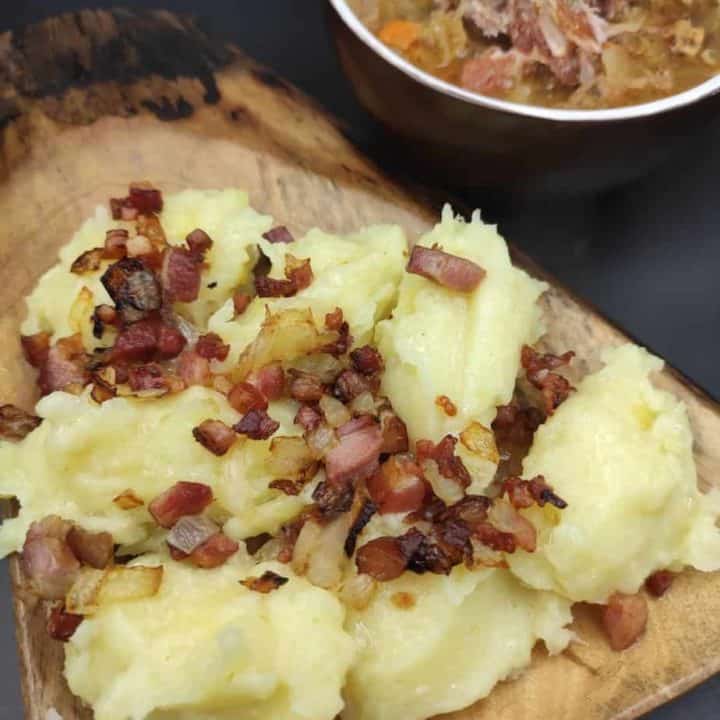 iron noodles also known as gray,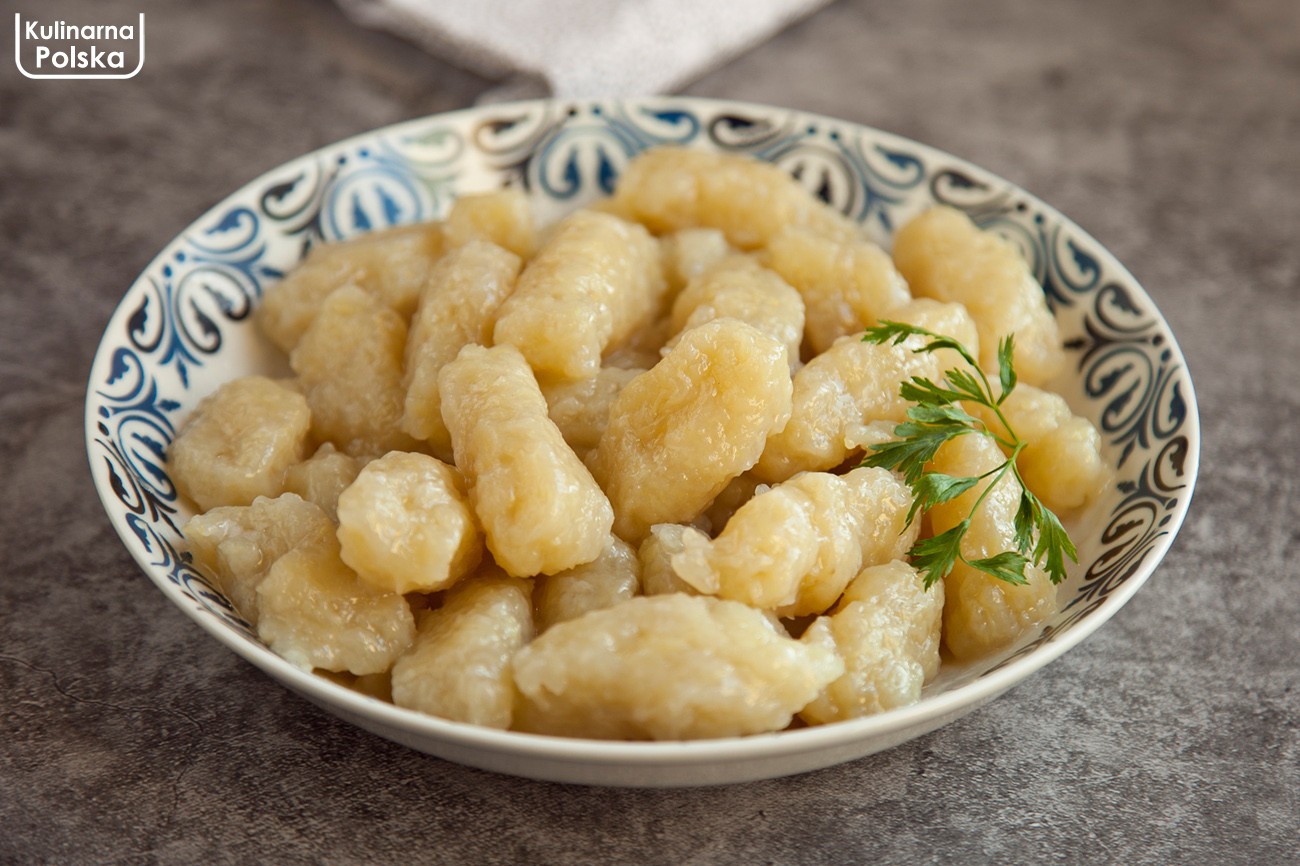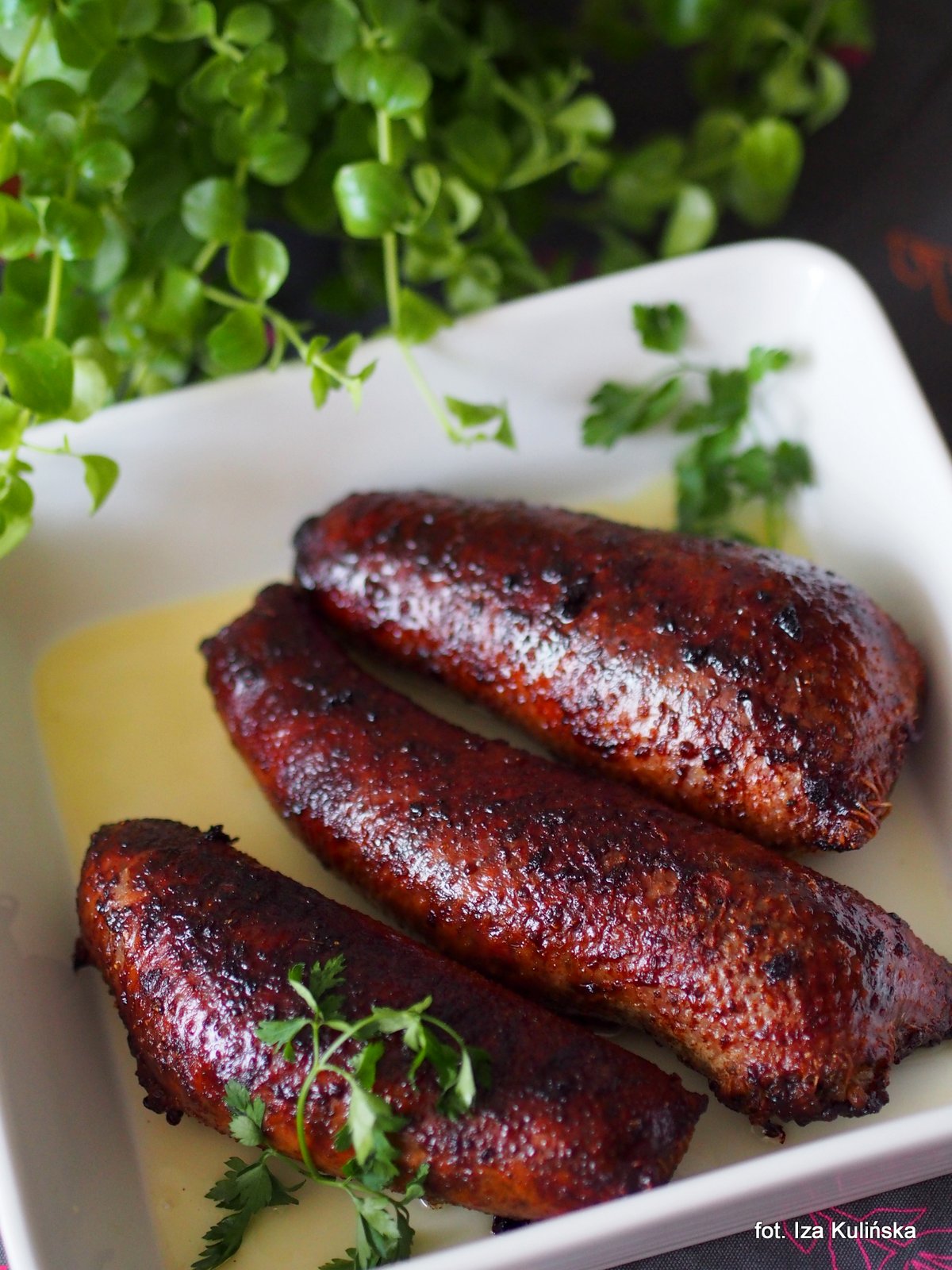 "kugiel" (the most famous from Podbórz) – potato cake, it's a Jewish cuisine dish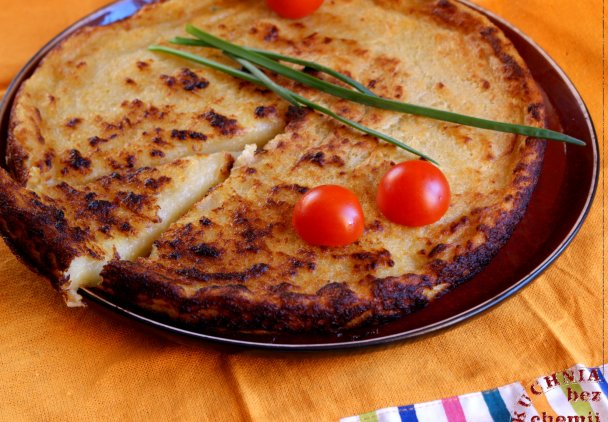 knedle with strawberries

served with young cabbage (this is the famous "bałuciara" dish) – potato, flour and egg noodles with strawberries inside.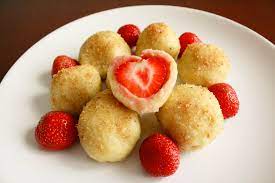 tatarczuchy, i.e. buckwheat pancakes with water, milk and yeast.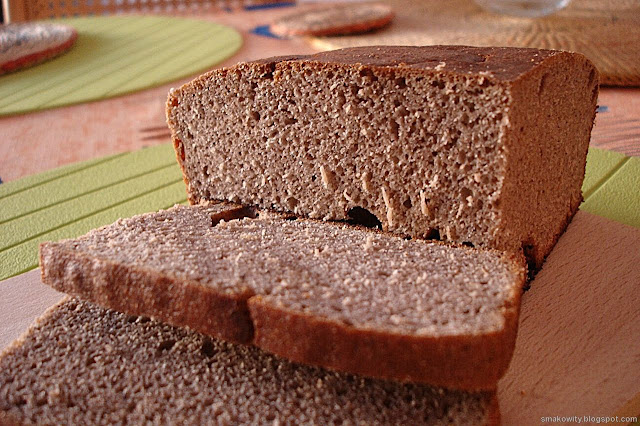 Of course, very often the second courses were accompanied by traditional Łódź cabbage with peas.
In addition to traditional Jewish dishes that fit into the cuisine of Łódź, we can include knišes, holiszkesz or cabbage rolls and Jewish carp.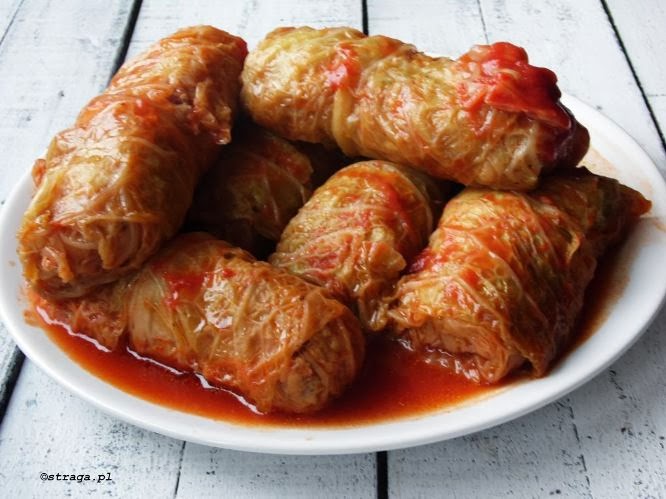 Typical starters include leberka, or pate, but the 'top shelf' one with more liver. Of course, "czarne" (black) or "krwiste" (bloody) also find their place among the starters.
A famous dessert of the Łódź region is challah with butter, żulik with butter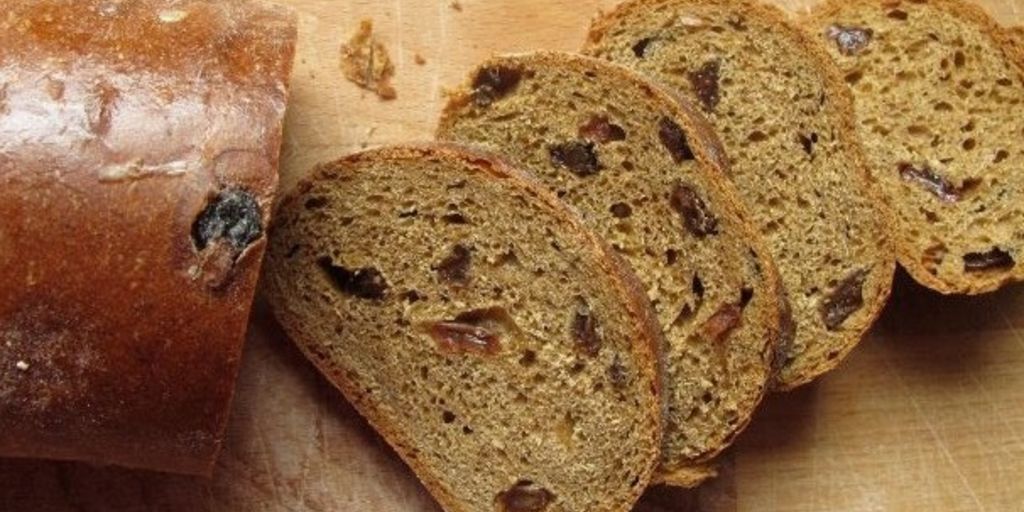 or carrot cake / gingerbread.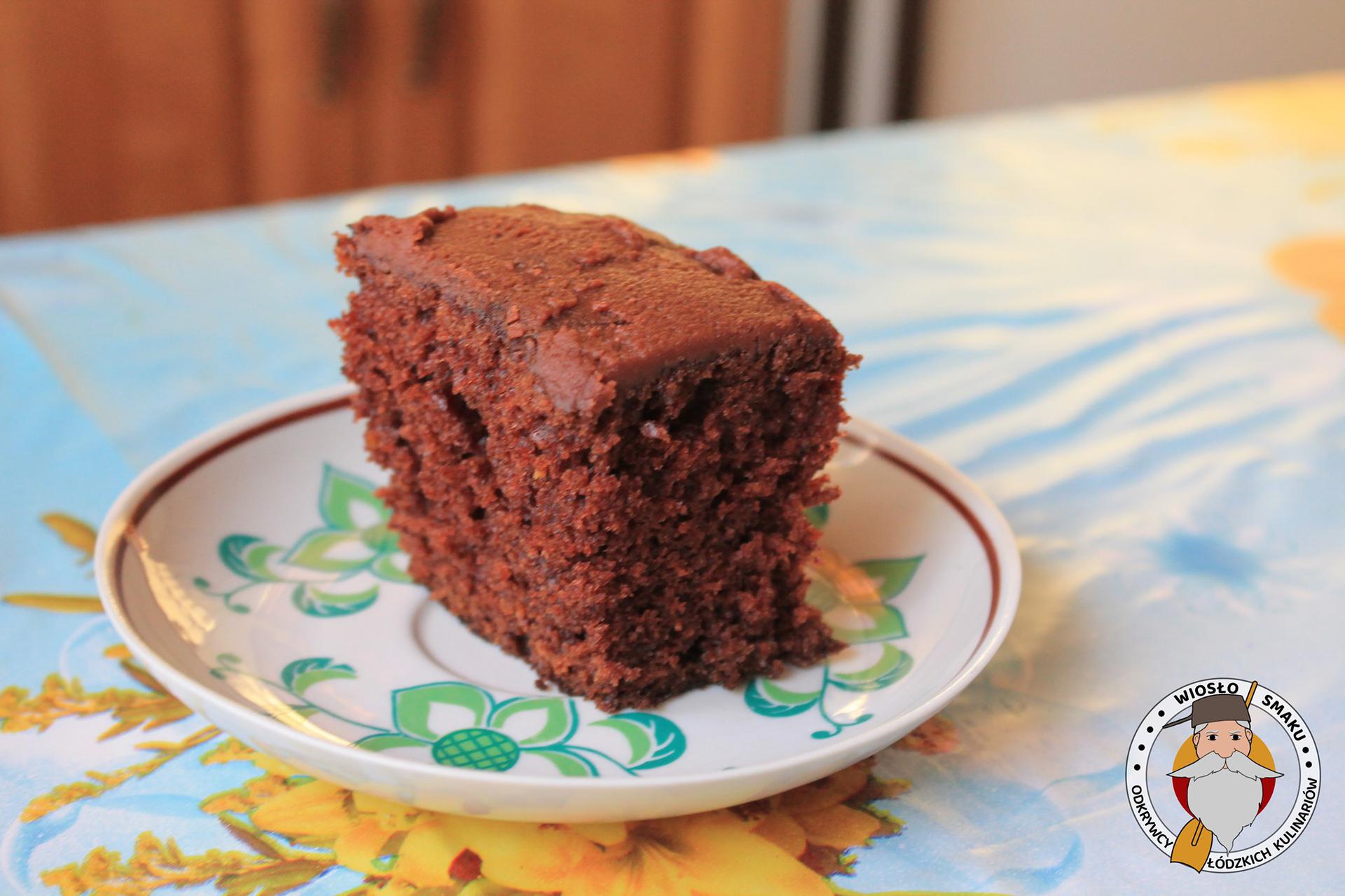 Angielka (englishwoman) is a long, thin wheat roll, about 30 cm long, similar in shape and size to a loaf of bread.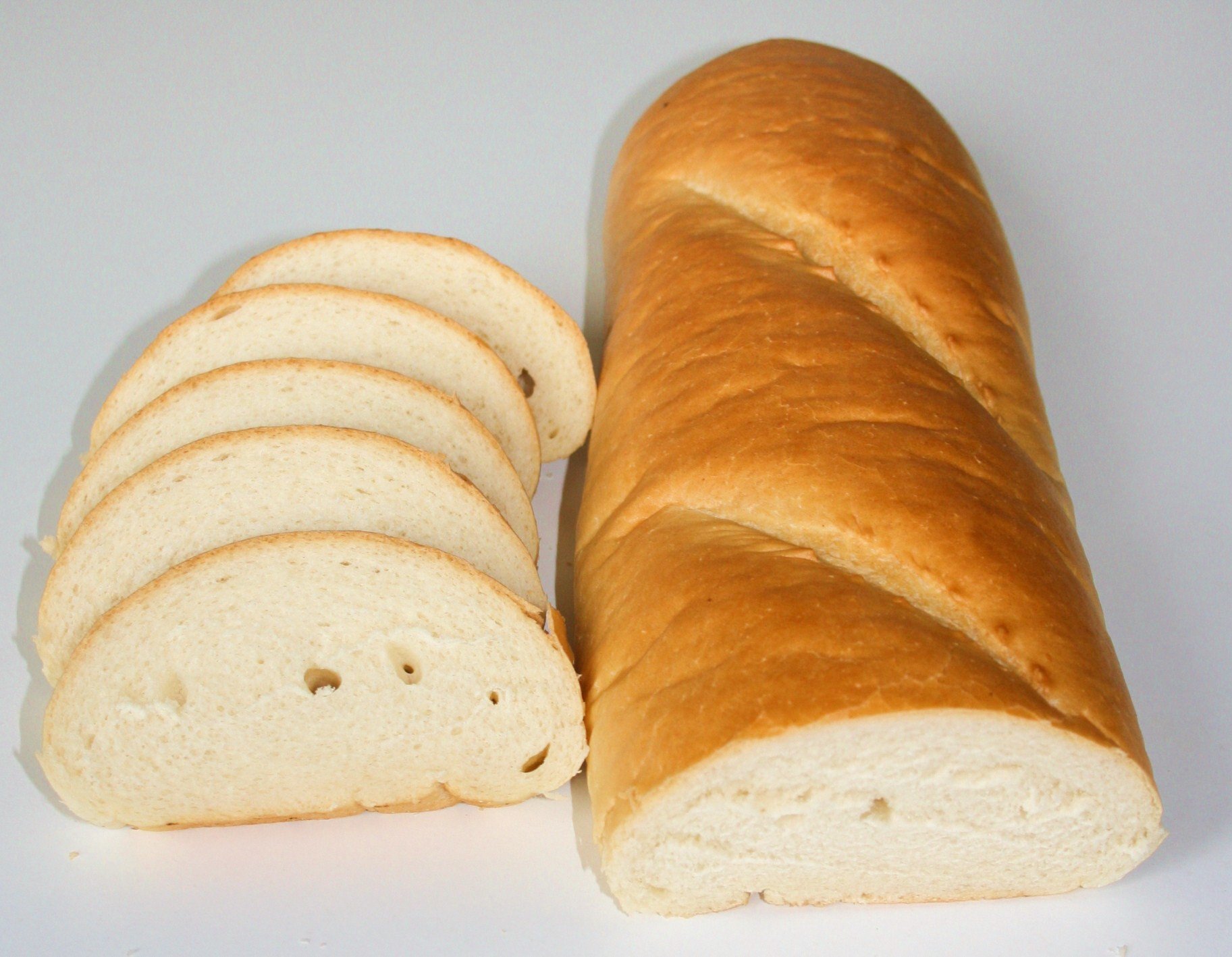 Here is a list of regional and traditional products from the Łódź region:
Goat curd cheese from Eufeminów
Traditional cottage cheese
Goat cheeses from Drużbin
Smoked Jordanian sausages
Traditional smoked bacon from Nadolna
Jordanian juniper sausage
Pate from Nadolna in loops 200
Oat goose from Bogusławice
Pig lamb
Smoked Szadków ham
Ham from lag from Wieluń
Gypsy ham known as the bear from Zaborów
Peasant sausage
Bilska sausage
Blood sausage
Homemade sausage from Biała Góra
Pork roasted from Biała Góra
Nagawki apples baked with juice
Cherry compote in the Łowicz style
Łowicz style cucumber puree
Canned sorrel in the Łowicz style
Horseradish in Old Polish style from Warta
Sauerkraut from Wieluń
Beetroot with horseradish in Łowicz style
Łowicz plum jam
Canned cucumbers in the Łowicz style
Pickled cucumbers in the Łowicz style
Horseradish from the Middle Warta River
Sauerkraut in whole heads
Tatarczuch from Radomsko
Nagawki bread is always fresh
Wholemeal bread from the Mroga Valley with grains
Buckwheat bread
Swietnicki rye bread
Dmosiński bread with traditional leaven
Old Polish bread from the Mroga valley
A gingerbread house by the Mroga river
Gingerbread With Carrot
Wholemeal rye bread from Biała
Country sourdough bread from a brick oven in Biała
Łęczyca country bread
Whole grain wholemeal rye bread from Łęczyca
Farm bread from Mroga
Rye bread with milk
Szadków rye bread
Cakes with cracklings (bacon)
Steamed wholemeal bread from Ozorków
Obwarzanki from Tomaszów
Cossack bread from Ozorków
Butter from Nagawki
Butter from Gluchów
Honey from the Mroga river valley
Honey from the commune of Żelechlinek
Honey of the Brzeziny Land, Lodz Heights and Rawka
Jeżowski sour soup with potatoes
Potato Plenga from Wójcin
Kugiel from Przedbórz
Pear soup from Gałków
Kapłonek (wodzianka) from Gałków
Stuffed cabbage from Osin
Cabbage with peas
Obrowska horseradish soup
Zalewajka with roux
Radomsko's Zalewajka
Raspberry ratafia from Nagawki
Fruit tincture from Nagawki
Apple juice from Kałęczewo
Kvass
Ginger and lemon tincture
Ratafee
Dmosiński raspberry syrup
Strawberry tincture from Bachorzyn
Source:
https://gotujmy.pl/kuchnia-regionalna-wojewodztwo-lodzkie,artykuly-smaczki-artykul,16572.html